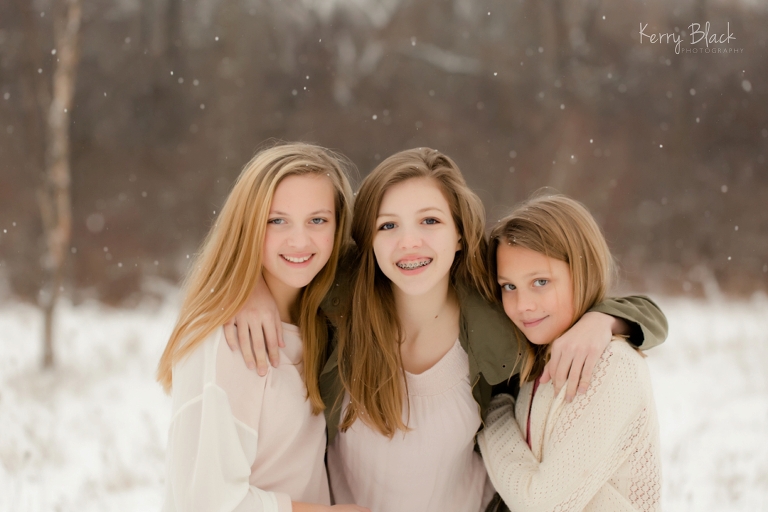 There is nothing like doing a photography session in the snow. The beautiful lighting and the neutral tones make any photo session feel a little more magical, and it truly helped set the tone for this Winter Sibling Photo Session. I have known Amanda, Emily, and Claire for a long time. I consider them my "unofficial stepsisters" which makes them more like family than anything else. Working with them was such a unique experience because although I've known them for quite some time, it was fun to catch them behind my lens and watch their individual personalities shine through.
I gifted these three beautiful sisters a photo session together for Christmas and we waited over a month for the perfect blanket of snow. I'm so glad we waited because we were able to capture the beauty of a snow-covered backdrop, and the photos turned out gorgeous.
The girls were champs during the session. It was cold to be out there in just thin layers but thankfully it was a  "warm" January day- a balmy 30 degrees! Their playful personalities came out just in time for a light snowfall, which added to the beauty of the photos. It really made for a wonderful Winter Sibling Photo Session. Amanda, Emily, and Claire all have unique and fun personalities so we wanted to play on that during their session. We made sure to have pictures of all three girls together as well as pairs of the girls so they could each have some wonderful memories.
I had so much fun working with my "stepsisters" for this Winter Sibling Photo Session. The neutral tones, bright snow, and light snowfall made for a gorgeous session with three lovely ladies. I hope that they will be able to cherish these memories for years to come, and it sparks a tradition among themselves to get photos done together as sisters as they grow older!