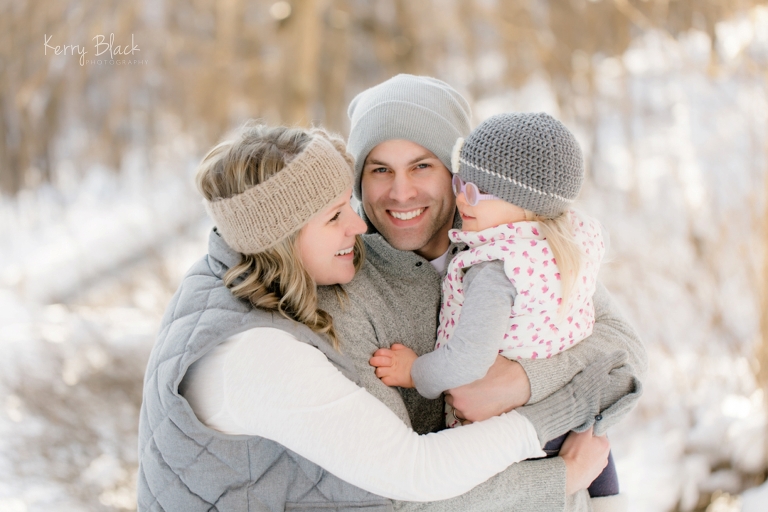 Last December, my family traveled up north to Bellaire, Michigan. My sister-in-law had inquired a while back about doing a Winter Family Photography Session, and what better time to do that than when we were all up north, gathering as a family during the holiday season? 
 My brother- and sister-in-law, Jason and Emily, really wanted some snowy photos to document their family in photos this year so we were all crossing our fingers and toes for some fresh snowfall to really take their outdoor family photo session to the next level. The night before their session, it snowed! The beautiful sun also came out that day as well, creating some absolutely stunning light for their outdoors family photo session. 
My niece, Olivia, is pretty much the cutest little girl on the whole entire planet. Not that I am biased, or anything? She recently had turned two years old at the end of October, and her sweet personality perfectly matches her adorable face. She is so joyful, and her smile lights up every room she walks into. She loves her doggie, Chloe, who was also able to join the family in some images, as well. 
I really loved the family's outfit choices. During the winter in Michigan, everything takes on a gentle neutral hue. While some photographers shy away from photographing in the winter, the beautiful neutral color scheme that the dormant trees and shrubs create go perfectly with my bright, airy and neutral look that I strive to capture in all my images. Emily's outfit choices for the family really complimented that look, and works well with the bright snow, and pretty light coming through the trees.
I'd love to talk to you about an outdoor family photo session this winter and spring. I hope you enjoy some of my favorite images and a preview into the K Family's Bellaire Family Photography Session.